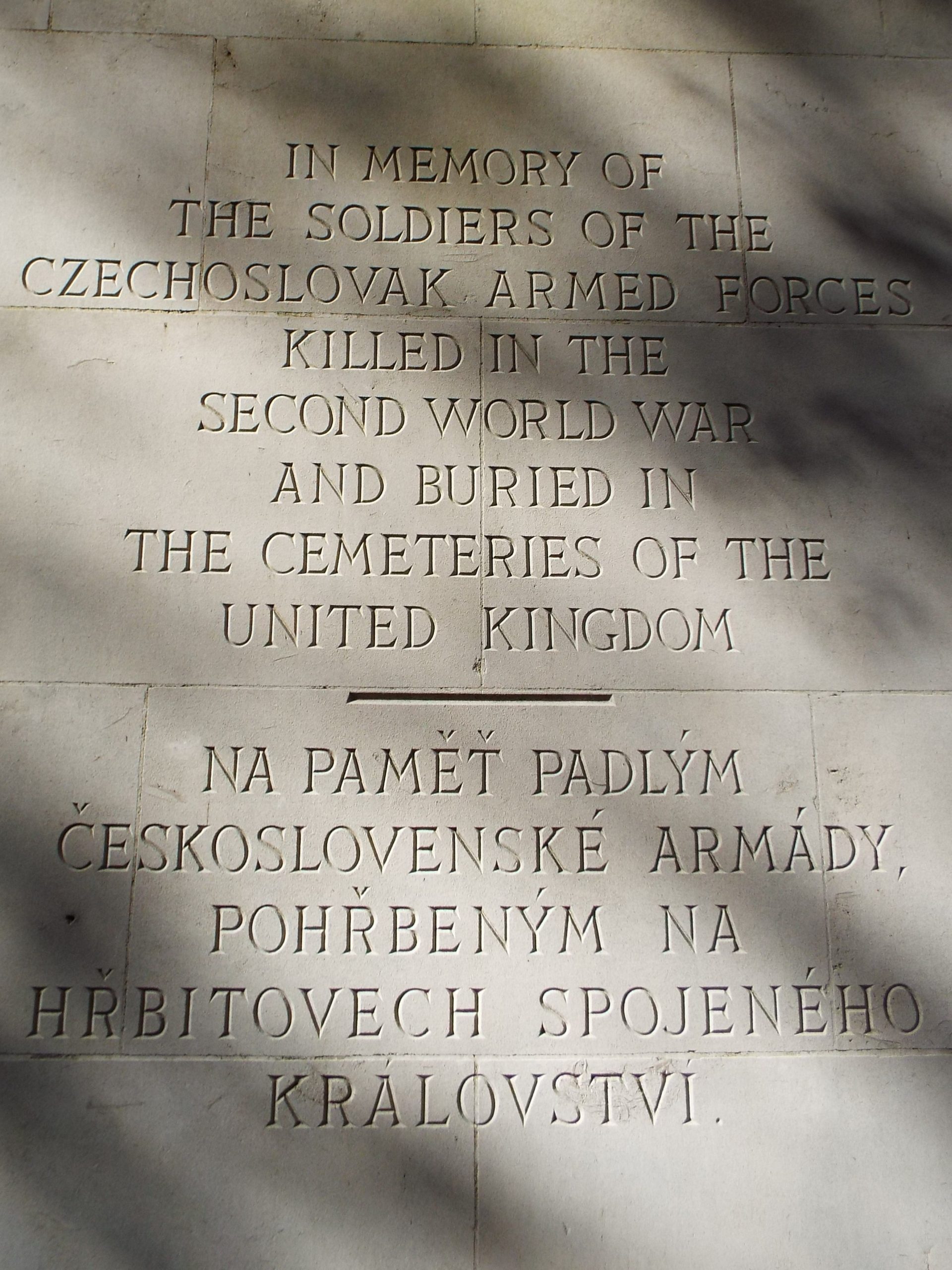 'We will remember them'
Following WWII, two Czechoslovak veterans' associations were formed in the UK, the Association of Czechoslovak Legionaries Abroad (ACLA), in May 1949, and the Free Czechoslovak Air Force Association (FCAFA). Later, on the termination of the FCAFA in April 2018, the Memorial Association for Free Czechoslovak Veterans (MAFCSV) was formed. The two Associations, ACLA and MAFCSV, sharing a common purpose and constituency, decided that amalgamating would best serve their interests and this occurred in September 2019. The new association has taken the name of the Memorial Association for Free Czechoslovak Veterans and we are recognised as the leading association commemorating Czechoslovak WWII Forces in the UK.
MISSION STATEMENT OF THE MEMORIAL ASSOCIATION for FREE CZECHOSLOVAK VETERANS
"The purpose of the Association is to honour and perpetuate the memory of the Czechoslovak servicemen and women who fought alongside the Western Allies during Second World War."
The MAFCSV aim to do this through a variety of activities including:
• Maintenance of the burial plot at Brookwood Cemetery, Surrey and the Czechoslovak Armed Forces Memorial at Cholmondeley Castle, Cheshire.
• Holding and taking part in commemoration events, annually at Brookwood, Cholmondeley, Battle of Britain Memorial Capel-le-Ferne, Parachute Fountain Leamington Spa and Westminster Abbey.
• Maintaining contact with UK Armed Forces organisations which had a connection with the Czechoslovak Armed Forces in the UK during WWII.
• Involvement with both the Czech and Slovak Embassies and organisations in the UK, who are engaged in similar events and projects to commemorate the Free Czechoslovak Forces.
• Promoting an understanding of this shared Czech/Slovak/UK history in schools.
• Maintaining contact with the Czech and Slovak Republics and keeping the memory of this particular group of Czechoslovak servicemen and women alive in those countries.
• Working on projects that tell of the involvement of Czechoslovak Army and Air Force with Allied Forces in WWII.
• Using our social media platforms (Facebook, Twitter and Instagram) and our website www.mafcsv.co.uk to connect with veterans' families, general public and schools, and inform them about our events and work. As of Sept 2021 our Facebook page has over 1300 followers.
Further information about us, our events and our veterans can be found on our Facebook Page 'Memorial Association for Free Czechoslovak Veterans' or on our Instagram or Twitter pages under the same name.
Please feel free to contact Mrs Gerry Manolas (Chair) at chair@mafcsv.co.uk