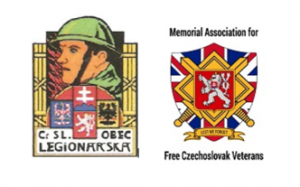 The Memorial Association for Free Czechoslovak Veterans was formed in 2018 and is an amalgamation of the Free Czechoslovak Air Force Association and the Association of Czechoslovak Legionaries Abroad.

We are a not-for-profit organization whose aim is:
'To honour and remember all Free Czechoslovak WWII veterans and service personnel who fought with the Allies'.

We hope to do this through:
•Our commemorative events which are held twice a year at Brookwood; these being the closest Sunday to 8 May (VE Day) and the closest Sunday to October 28 (National Day) and also at the Czechoslovak Memorial Stone Cholmondeley Castle grounds, nearest Saturday to 7th July.
•Attending commemorative events held at other key places across the UK, the Czech Republic and Slovakia.
•Working with schools in the UK, and abroad, to educate students about the stories of the Free Czechoslovak Veterans and their roles in WWII.
•Engaging in projects that tell of the involvement of the Czechoslovak Army and Air Force with Allied Forces in WWII.
Further information about us can be found on our Facebook Page 'Memorial Association for Free Czechoslovak Veterans' or on our Instagram or Twitter pages under the same name. We also have a website we are just starting to add information to www.mafcsv.co.uk
Please feel free to contact Mrs Gerry Manolas (Chair) us at chair@mafcsv.co.uk