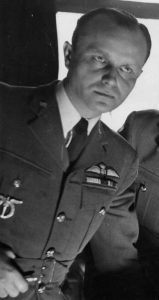 Jaroslav Malý-Flight Lieutenant
Malý was commissioned into 310 Squadron at Duxford on the 13 July 1940, shortly after its formation on July 10. Malý died on June 5. 1941. He was serving as a Wing Commander with the Inspectorate of the Czechoslovak Air Force. The circumstances of his death are not known. (Marked with a red star in photo).
310 (Czechoslovak) RAF Squadron and their British flight commanders grouped in front of Hawker Hurricane Mark I, P3143 'NN-D', at Duxford.
Anton Vanko – Pilot Lieutenant Colonel
Vanko escaped Czechoslovakia with two colleagues in April 1943 by hijacking a plane called 'Antka'. They flew to Istanbul where they had to land due to engine trouble. After a perilous journey through the Middle East, they eventually arrived in Britain in October 1943. Vanko was assigned to spitfire and then transferred from the 57 Operational Training Unit to the 321 Czechoslovak air wing.
Vanko was a Spitfire pilot and was just starting an operational flight providing protective support for Lancaster Bombers on their way to Duisburg, Ger- many. Whilst in extreme weather conditions, he collided with another aircraft in Bradwell Bay airport and was killed.
Josef Ocelka-Wing Commander DFC
Was the pilot with the most operational flights for 311 squadron. He few forty-four operational flights totaling 224.5 hours. On the morning of 21 July 1942 at Brize Norton Airport, Ocelka was undertaking a test flight in a Beaufort Mk. II DD938. Shortly after take-off, his wing caught a hangar roof and he crashed. He and the two civilian employees were killed. After the fall of the Communist regime in Czechoslovakia in 1989 many of the free veterans were promoted in rank. Ocelka was one of them, receiving the rank of Major General.
Karel Macháček
He also had his medical studies interrupted but continued these at Sheffield University. His first posting on becoming qualified was to the Czechoslovak Military Hospital which occupied a wing of Hammersmith hospital. It served not only the needs of the military but also supported the Czechoslovak community in London. Later he became a Medical Officer in the RAF, his task to support the Czechoslovak squadrons and step in where their doctors were ill or there was a shortage of medical staff.
Bohuslav Šulc driving a military lorry in France 1944
was an artilleryman but with a student background. He was passionate that the brutal events in Prague should not be forgotten and became a leading figure in the formation of the National Union of Czechoslovak Students in Exile. The declared aim was not only to remember the Czechoslovak students who had been imprisoned but to create awareness of the events amongst the allied nations. In this endeavour, which attracted support through the free world, Slava Šulc and Karel Macháček became joint vice presidents and succeeded in getting 17 November declared as International Students Day. On active service, their paths separated and Slava served with distinction during the siege of Dunkirk during which time he was captured by the Germans. Many of our veterans worked hard during the war to become exemplary ambassadors for their country through sport, music and the arts as the general public's knowledge of other countries and their people was extremely limited.